Evernode is a layer-2 smart contract network proposed by Scott Chamberlain and Richard Holland. Chamberlain is an entrepreneurial fellow at the Australian National University College of Law (ANU), a recipient of a grant by Ripple's University Blockchain Research Initiative. Using the funding from Ripple, ANU launched courses exploring legal issues with the application of smart contracts and the integration of artificial intelligence into a blockchain-based legal framework.
A year after the UBRI grant, Chamberlain and Holland published the first white paper for Evernode, eventually qualifying for an XRPL grant of $200,000.
Evernode recently tweeted that they would be entering into an open host beta with airdrops for participants. Anyone wanting to be a host of an Evernode server may earn rewards in exchange for participation:
"Evernode Foundation may, in its absolute discretion, airdrop a portion of its Evers to people who participate in the beta. But the details of any such airdrop are not confirmed."
Evernode uses hooks to integrate with the XRPL and issue its native currency, evers. Evers are used to reward hosts for participating in the network and used by dApps to pay hosting fees to nodes.
Pilot dApps for the Layer-2 smart contract network include a self-sovereign KYC dApp called iXRPL, a Nomadic Contract, and an EVM Cluster dApp. The last two are particularly interesting. An Evernode slide on twitter indicates that Ethereum dApp developers can copy and paste their solidity code into Evernode and have them run natively on the network.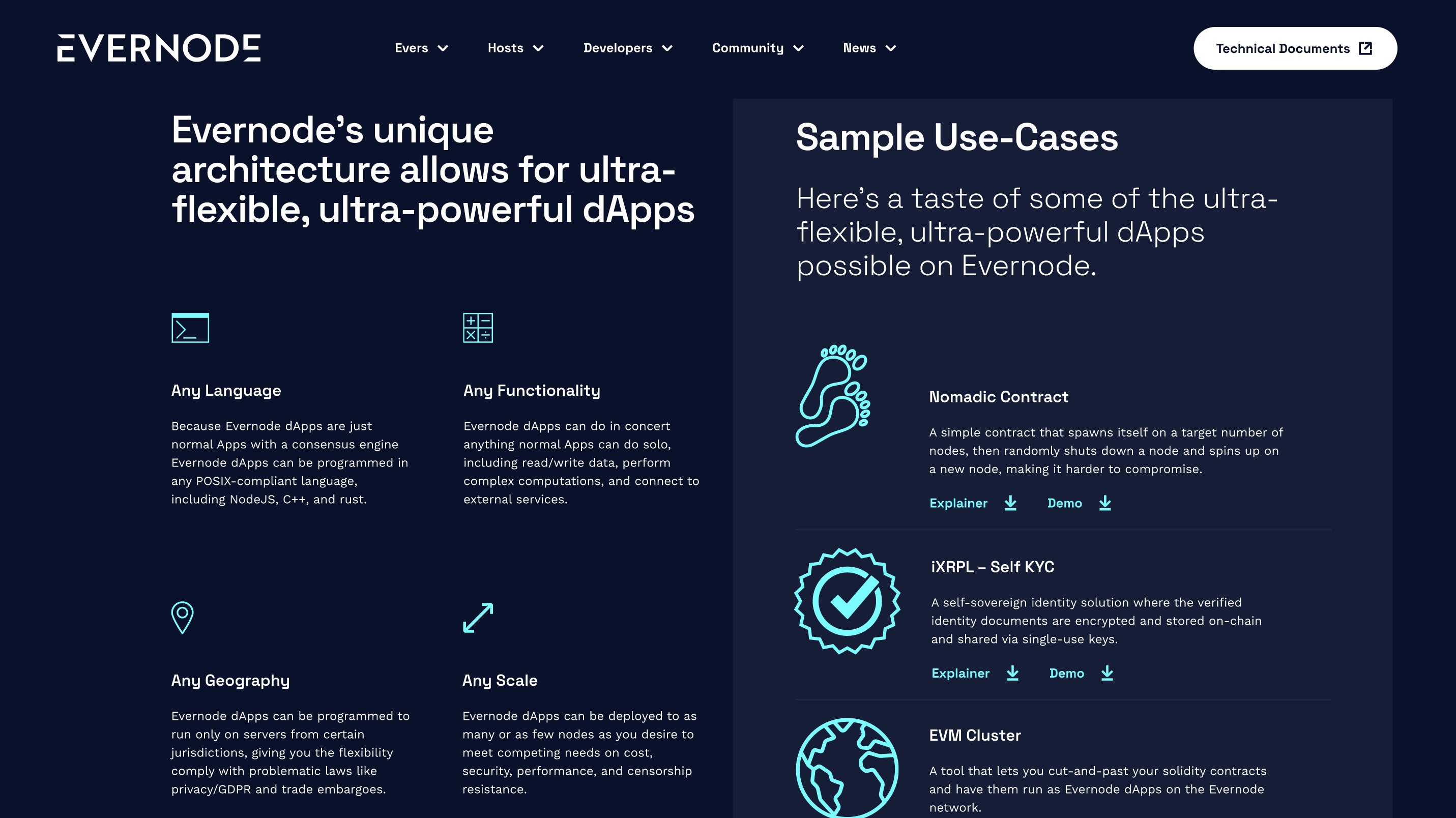 This could bring a host of now compatible Ethereum dApps to the more nimble and cost-effective XRPL.
The Nomadic Contract is a self-replicating contract that can bounce from node to node and even detect if the host is compromised:
"A sophisticated version of the contract could sense if a node is compromised, remove it from its UNL, and relaunch on a new trustworthy node, making the contract hard to "kill". It would continue to run, exchanging Evers for Hosting Tokens and relaunching on available trustworthy nodes until it exhausted its funds."
The smart contract would be able to seamlessly drift in and out of territorial jurisdictions, making it very difficult to nail down and ensuring continuous operation even under adversarial scenarios.